On Thursday 17th March, students studying Sport were given the opportunity to take part in a Disability Sport workshop exploring inclusive sports and the impacts disabilities can have on individuals.
Ian Richards from Express Coaching Services, with over 20-year experience of disability sport provision, delivered a number of activities including; chair skills and manoeuvrability to music, wheelchair Tag Rugby and wheelchair Basketball. This opportunity gave the students an insight into the day-to-day life of wheelchair users.
Initially, students had to get their own wheelchairs out of a vehicle, put them together and get in and out of them safely to replicate the practicalities of everyday life for a wheelchair user. They then had to learn how to use them before having a go at the activities offered. The students were enthusiastic and always willing to try the different tasks, even when they found some of them difficult they didn't give up. It was truly a great way to see how sports can be inclusive for all, and something these students may even use in their own coaching practices in the future.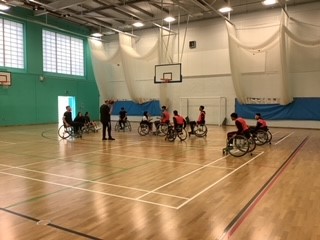 Paul Wilson, College Principal, attended the event and commented "I watched part of the event with great admiration for those taking part and it was clearly so well received by our students.  Trying something new, breaking boundaries and getting an insight into what is possible in sport for everyone, irrespective of circumstance, has clearly been a valuable experience for everyone involved.  There was a lot of fun out there from what I saw too, so well done to everyone involved in setting the event up and those taking part with such enthusiasm!"
The event was such a success that we hope to see Express Coaching Services back again soon.