I cannot express just how proud we are of our students and their achievements this year. They have overcome so much during the past two years and their successes are so greatly deserved.  We have watched our students take it all in their stride, grow and flourish as people and seen them make the academic progress that will now enable their next steps in education and the world.
19 different A' Level courses offered at the College had 100% pass rates this year and 97% of Advanced Level students gained a pass. 
There were some incredible individual performances too, with 145 students gaining straight A*/A grades or equivalent in every course they took as part of their programme. More generally, 42% of the entire cohort of students gained at least one of these top grades.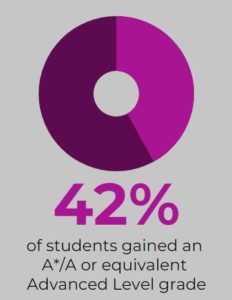 students achieved straight A*/A or equivalent across every Advanced Level course taken
For most, we know that their progression will now be into higher levels of study at University, while others will have plans to develop their professional careers directly in the workplace, such as through apprenticeships.
Whatever their next steps, I wish them all continued success.  The cohort this year have really earned their successes and they will rightly spend some time in the coming days celebrating and firming up their exciting plans and next steps.
Paul Wilson
Principal